When debating the merits of a fire pit, it's always a good idea to look at them from every angle. After all, there are lots of fire pit options ranging from a couple of hundred dollars to several thousand. There are all sorts of designs and features that can make your fire pit a piece of art in your own backyard. But, it's also a good idea to ask what are fire pits used for?
Fire pits are used for several different things. Their ultimate use depends on the type of fire pit and your preferences as the owner. From aesthetics and cooking to entertainment and adding value to your home, fire pits are versatile additions to your home.
Read on to discover just what fire pits are used for. 
General Fire Pit Uses
Exactly what you get out of a fire pit depends partially on the fuel type, which we'll discuss below. First, we'll go over the uses that all types of fire pits provide, no matter the fuel type.
Aesthetics
Many people take great pride in their homes and yards. It's a natural thing to do because your home is your castle. Fire pits can greatly add to the aesthetic appeal of any yard or patio. There are so many choices that you're bound to find a style that fits your preferences. Many fire pits don't even have to be lit to add beauty to your backyard because they're so elegantly and expertly designed.
Warmth
Of course, one great thing about any fire pit is warmth. It's true that some fire pits provide more warmth than others. If you want a fire pit mainly for warmth, you can find one that suits your needs easily simply by looking at the BTUs. The more BTUs, the more heat the pit gives off.
There's nothing like gathering around a warm fire pit on a cold evening, enjoying the stars and the flames alike.
Entertainment
While watching a fire isn't quite like watching a movie, it is still a form of entertainment. There's something mesmerizing about the flames. It's a nice way for you to remain engaged and yet relaxed at the same time. Add some music and some company, and you can stay entertained for hours by the fire pit.
Gathering Place
Every home needs a central gathering place where friends and family can congregate. A fire pit provides that very thing. People are instinctively drawn to fire, even if it's not cold out. Fire pits provide a certain cohesion that has an almost magical effect on people.
Mood
The dancing flames of a fire are very relaxing for many people. A fire means warmth, light, and safety. This can serve to set the mood easily. Whether you're having a party with lots of friends and family, or just a romantic evening with your partner, a fire pit can provide the ambiance that's perfect for you.
Added Value
Fire pits can add value to your home. And not only monetary value, but something a little more intangible, too. It's true that a built-in fire pit can enhance your home's value to potential buyers, but it can also do much for your family, too. I
If you're not planning on selling the house, a fire pit can help make your house a home by giving people a nice relaxing place to spend some of their spare time. This type of value is priceless.
Fire Pit Uses by Fuel Type
Now, let's dive into the fire pit uses by fuel type. We'll look at wood, propane, and natural gas to give you an idea of which will be the best for you.
Wood-Burning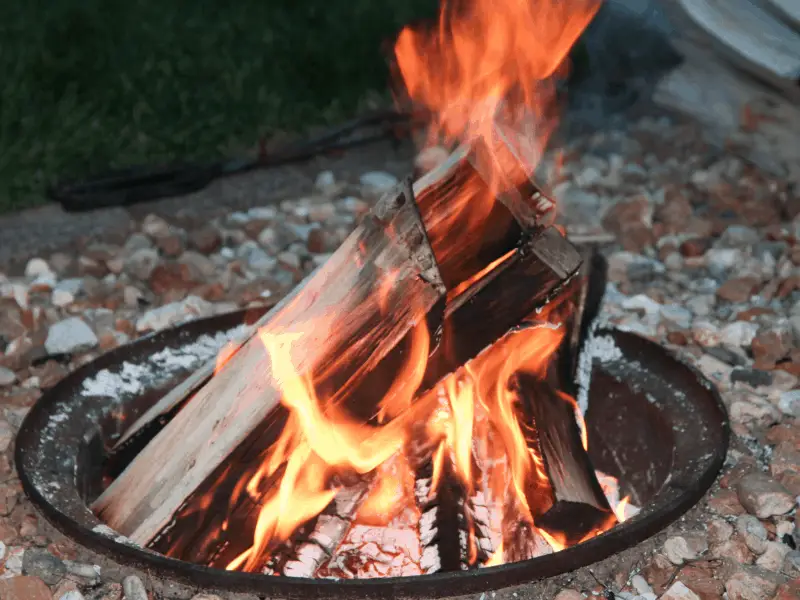 Wood-burning fire pits are probably the most versatile of the group. But they also require the most upkeep and energy to maintain. 
Cooking
While it's okay to roast marshmallows over a gas fire pit, pretty much anything else you want to cook on a fire pit should be done over a wood fire. The reason for this is that juices and drippings can clog up propane or natural gas fire pits. Wood, on the other hand, makes for ideal campfire-style cooking. With a fire pit cooking grate, you can go to town grilling your heart out in your own backyard.
Authentic Campfire Feel
Wood-burning fire pits are also great for that campfire smell and feel. Depending on what kind of wood you're burning, they also tend to give off more heat than their gas counterparts. Plus, you get the crackling and popping noises that you miss out on with gas fire pits.
Getting Rid of Wood
If your property is in a wooded area and you have more firewood than you know what to do with, a wood-burning fire pit can help you clear that dead wood away while providing heat, entertainment, and a nice gathering place. Plus, many people like feeding and maintaining a wood fire.
Repelling Insects
Wood smokes when it burns, and insects don't like smoke. Since gas fire pits don't generate smoke, they don't do much to repel mosquitoes and the like. So, if you want to scare away those pesky bugs, get a wood-burning fire pit. 
Related Article: Do Fire Pits Keep Bugs Away? The Truth
Note: Wood-burning fire pits are not allowed in some regions. Check your local laws to see about burn bans and fire pit regulations.
Propane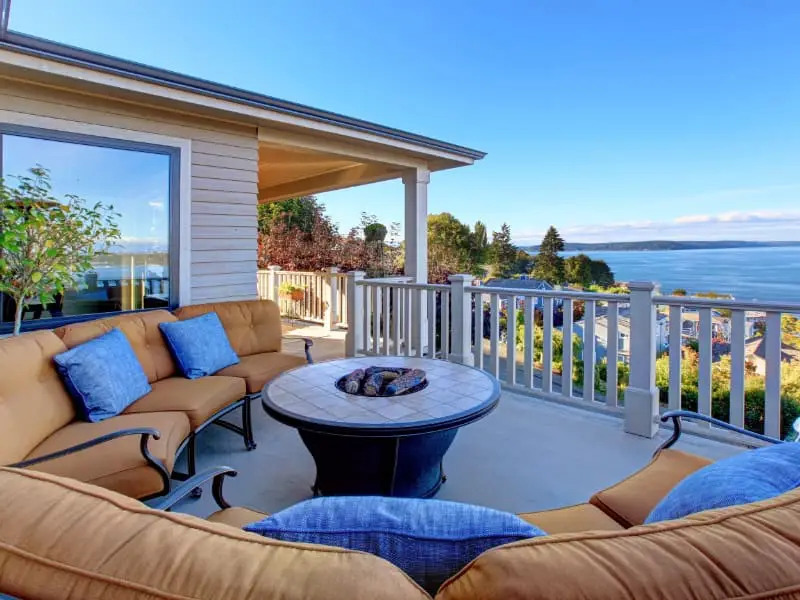 Propane fire pits are the most popular because they're generally portable and inexpensive.
Warmth and Safety
For those who don't want to mess with wood, ashes, and embers, propane fire pits are ideal. They're safer than wood-burning pits and they provide warmth, mood, ambiance, and aesthetics to any backyard. Since many of them are small and portable, you can easily move a propane fire pit around as you wish, or store it when you're not using it.
Natural Gas
Natural gas fire pits are generally the most expensive because most of them need to be installed. Unless you already have a natural gas access line in your yard, you'll also have to hire a professional to install one. However, they do provide warmth, ambiance, entertainment, aesthetics, and one may even add value to your home. 
Added Value
Since natural gas pits need to be installed or semi-permanent, they can add value to a home. They're usually bigger than their propane counterparts and blend seamlessly into your patio or porch.
In Conclusion
The ultimate use of any fire pit depends on the type of fuel you use. However, all fire pits can provide many uses and benefits. Warmth and aesthetic appeal are the two big ones, but they also provide a relaxing atmosphere, a gathering place, and a little bit of entertainment.
Recent Posts