Fishing with kids can be a great time or a bit of a nightmare, depending on how you approach it. Some of it depends on the child's personality, but mostly a good fishing tip comes down to preparation. The truth is that fishing with kids can be a fun and safe time for everyone if you do it right. Whether you're headed to a lake, a river, or out on a boat, we've got you covered with the simple guide to fishing with kids.
Familiarize Yourself First
Chances are if you're reading this blog, you already have a passion for fishing. Great! I don't recommend taking your kids fishing if you're still trying to learn the basics yourself. Teaching kids to fish does require know-how and patience, so familiarize yourself with basic fishing techniques and practices first.
The same goes for the location you're planning on taking the kids. If you've been there to scope it out and make sure it's an appropriate place to take your kids, excellent. If you've never been there and it's impossible to check it out beforehand, do as much research online as you can. Mostly, you'll want to consider the safety of the location.
Location Safety
You probably don't want to take very young kids to a dangerous fishing area. For instance, if there's a nearby cliff, reports of poisonous snakes, or fast-moving water, maybe save that area until your kids are a little bit older.
After all, even the most attentive parent can get overly focused on reeling in a particularly big fish while their child wanders off. It only takes a few seconds to lose sight of them! The more adult supervision you can bring, the better. 
Think About First-Time Fishing
Aside from making sure the fishing area is safe, you'll want to make sure it's conducive to first-time fishing. For instance, lots of foliage and brush to snag poles can make for a poor first experience. Will you have to hike to the fishing spot? If so, consider the time and energy that takes with a young child. Many fishing areas have rocky or uneven ground, which can be difficult for kids who are still developing their balance and motor skills.
You can also figure out when and how much the fish tend to bite in the area. Of course, even spots that purport to be the best place to fish can bring you no luck. We've all been there before. But, the better chance your kids have of actually catching a fish or two, the more exciting it will be for them.
You can find plenty of online forums and websites about local fishing spots to get you started. You can even use Google Earth to locate little-known fishing spots. 
Other Forms of Entertainment
Consider if there are other things that you kids can do for entertainment in the area. If the fish aren't biting, they may want to do something else for a little while and then come back to the pole a little later. So, all the better if the fishing area has some other form of entertainment your kids will enjoy.
A couple of examples include swimming, hiking, and playing games like tag. They can build a fort (I used to love doing that) or bring some cards to play with, play 20 questions, or even a game of I Spy. Take the opportunity to get them away from screens, if it's appropriate.
Prepare Your Kids For Fishing By Getting Them Interested
Warming kids up to fishing takes a little bit of effort. In the days or weeks leading up to the trip, show your kid or kids one or two things to pique their interest. Don't turn it into a full-blown lesson on fishing—their eyes will surely glaze over.
If you spend a maximum of ten or fifteen minutes showing them lures, demonstrating how to cast and reel, or watching fishing videos on YouTube, you can get them excited about the trip. Do this a few times before the trip, and they'll be ready to learn more. 
Start Small and Come Prepared
Overwhelming or scaring your kids is a good way to make them cringe any time you mention fishing again. So start small. Don't go tuna or shark fishing the first time out. Instead, start small so your kids can get a feel for it.
Bring appropriate bait or lures for the kinds of fish you're looking to catch. If you switch lures, take the opportunity to show your kids how to tie a good knot in the line. Explain to them why you're changing lures.
It's also a good idea to bring a first aid kit. While your fingers may be calloused and used to sharp fish hooks, children's hands are soft and will probably bleed a little if they get poked. Of course, bring life jackets even if you're planning on staying on the shore. Best to be safe!
I've included a list of things to bring when fishing with kids:
Sunscreen
Dramamine for boat fishing
Snacks and food
Hats for the sun or rain
Ponchos in case of rain
Fishing licenses and regulations
Plenty of extra lures, bait, and line
Extra clothes for inevitably muddy or wet children
Towels
Suitable entertainment for kids
Consider Boat Fishing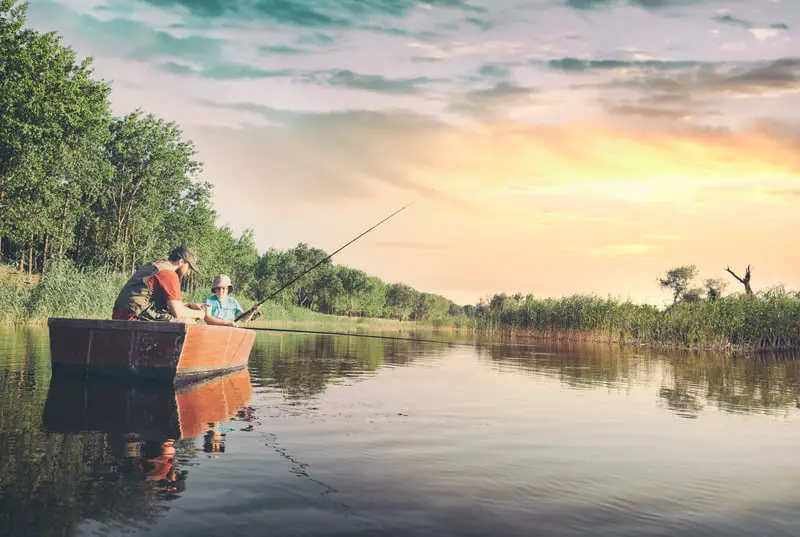 Going out on a boat can be a great experience for the whole family, provided you choose the right boat. You need to think about things like bathroom breaks, meals, safety, and sunlight. So, we'll break down some pros and cons of different types of boat fishing.
Kayaks, Canoes, and Other Small Boats
Small boats aren't typically great for fishing with young kids. It's not impossible to have a good fishing trip in a small boat, but make sure to bring lots of sunscreen and another adult for supervision.
If you're taking a boat that doesn't have a motor, consider who will row or paddle the whole time. Plus, factor in the need for bathroom breaks for those with small bladders. Young kids have a hard time sitting down for extended periods— especially if they don't have anything particularly entertaining to keep their attention.
Large Boats and Charter Fishing
If you want to do some deep-sea fishing or get out on a lake in luxury to relax and fish with your kids, big boats are the way to go. There are plenty of large boats for rent or charter if you don't have your own. Houseboats, cabin cruisers, walkarounds, and pontoon boats can all be fun for the whole family. However, not all of these boats have a bathroom aboard, so make sure you consider that.
You can charter a boat with a small crew or just a captain for a day of fun. If it has a bathroom, kitchen, and an area for kids to rest, you can make it an all-day adventure. If you really want to have some fun, charter a houseboat for a few days!
The nice thing about bigger boats is they have room for kids to move around, rest, and take a break from fishing. You may also make it a swimming trip, although fishing and swimming at the same time don't mix well. 
Of course, there are medium-sized boats such as runabouts, bass boats, and jet boats that typically don't have bathrooms or other accommodations. Still, they have motors and can be lots of fun. Not to mention they're usually cheaper to rent! It all depends on your particular needs and the needs of your children.
Teach Them Best Practices and Laws
Before heading out to fish, determine what the laws are where you'll be fishing and act accordingly. Most states allow kids under a certain age to fish for free, but that varies from place to place. Check license requirements and regulations before heading out to the spot.
Talk to your kids about how different areas have different laws and how they are in place to keep the fish population healthy. If you're doing catch and release, you can show the proper way to hold the fish, remove the hook, and release it back into the water. If you're keeping the fish you catch, you can show your kids how to use a fish stringer and how to clean the fish properly.
Enjoy The Quality Time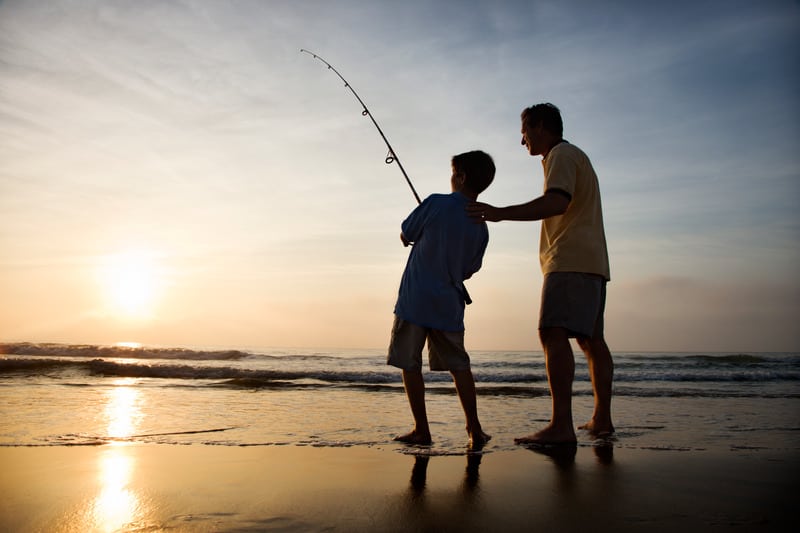 Once you've done all the preparation and planning, your hard work will pay off. Enjoy the quality time you'll have teaching your kids to fish. You can share all the little tips and tricks you've picked up over the years as you go along about how to spot a good place to fish, what kind of bait or lure to use, and why you enjoy fishing. There's something special about passing on your knowledge to your kids and it's a big part of getting them to like fishing themselves.
You can entertain your kid or kids with fishing stories and anecdotes. Give them a little room to make some mistakes, and explain to them how to avoid them in the future.
Just be sure to watch out for wild casts and errant hooks. Many parents have been unintentionally skewered by their little first-time-fishers. Which brings us to the last and arguably, most important part of the simple guide to fishing with kids: patience. 
Remember to be Patient
It may be obvious, but it's always worth remembering: patience is key. Fishing can be dull or stressful for kids until they get the hang of it. Hooks can get caught on rocks, trees, and branches. Fish can be stubborn and not even nibble at your lure. Caught fish can be slippery and their fins sharp. Fishing line can be hard to see and even harder to tie.
So be ready to be patient. The payoff will be fantastic: you'll have a new fishing buddy for life!
In Conclusion
Some kids take to fishing like a fish takes to water. Others seem like they have two left thumbs when holding the pole. You'll never really know how your kids will react until you get them outside and show them how it's done. But that doesn't mean that you can't do things to make the trip fun and enjoyable for everyone.
Fishing with kids requires a decent amount of planning and preparation. Check out the fishing spot any way you can. Ask yourself if it's safe, easy to access, and whether there's a good chance you'll actually be able to catch some fish. It's also a good idea to consider other activities in the area that your kids will enjoy, just in case.
Then, introduce your kids to the concept through hands-on experience (you can show them how to cast in the backyard), and videos. Gather relevant supplies, including snacks, a first aid kit, sunscreen, and items to keep your kids entertained if the fish aren't biting.
Boat fishing can be a blast, but bigger boats get expensive to charter, and smaller boats aren't necessarily conducive to a long trip with small children. Just remember to ease your kids into fishing by starting small and acting with patience. Pretty soon you'll be casting side by side and enjoying the many pleasures fishing provides.