Parents always want what's best for their kids. This is why many parents are switching from sandboxes to rock boxes with pea gravel. Sandboxes and rock boxes have different benefits, as well as risks associated with them. In this blog post, we will go over the two types of play areas and compare them to give you a better idea of which one may be best for your child. We'll also cover why you as a parent may prefer one over the other.
What is a Rock Box?
Pretty much everyone knows what a sandbox is, but not everyone has heard of a rock box. There's really only one difference, but it's a major one: rock boxes contain pea gravel instead of sand. 
The name rock box may bring to mind images of your child playing in a pile of rocks. Or, rather, refusing to play in a pile of rocks. After all, who wants to sit in a bunch of rocks? Sand is much more forgiving, right? 
Not necessarily. 
While it's true that pea gravel is technically made of rocks, these are small, rounded rocks that are kind of like big grains of sand. Chances are you've been to a playground with pea gravel surrounding the play equipment. This is because pea gravel is a good material for softening falls. In fact, one could argue that it's better than sand for this purpose. 
But, this article is about sand and rock boxes, not playgrounds. Still, there are some potential health risks that come with sand and pea gravel. Let's start with those as we compare sandboxes and rock boxes. 
The Potential Health Risks of Sand
Many parents are increasingly concerned about sand because of two things: crystalline silica and tremolite. Let's take a look at them in turn. 
Crystalline Silica
Crystalline silica is essentially quartz. When quartz breaks down over time, such as happens with sand in nature, it can become small enough to be inhaled as dust particles. These particles can then get stuck in the lungs and eventually cause respiratory issues, lung cancer, and other health issues. 
Most sand out there, even play sand, contains crystalline silica.
According to studies, the risks associated with crystalline silica are limited to long-term exposure to these dust particles. It's mostly a concern for those in the construction and mining industry. But, that doesn't mean that it's "safe." It's totally understandable to not want your children playing in sand that contains crystalline silica. 
Tremolite
Tremolite in sand first became an issue to the public back in the 1980s. Tremolite is an asbestos-like material that comes from crushed marble and limestone. Like crystalline silica, the risk of this comes from inhaling the dust present in sand. 
The good news is that you can get sand that does not contain either crystalline silica or tremolite. But be prepared to spend a pretty penny on that sand. The Prop 65 law in California requires that sand containing these potentially harmful substances be labeled with a warning. So if you see sand bags with one of these warnings, you can steer clear, if you so choose. 
If you don't live in California, you can look for a warning label on the bags of sand, and you may find one. But just because it doesn't have one of these labels doesn't mean the sand is free of these materials. Luckily, you can always purchase safe sand like this from the SafeSand company based in California. 
Or, you can use pea gravel instead of sand, which will save you a bit of money. 
The Potential Health Risks of Pea Gravel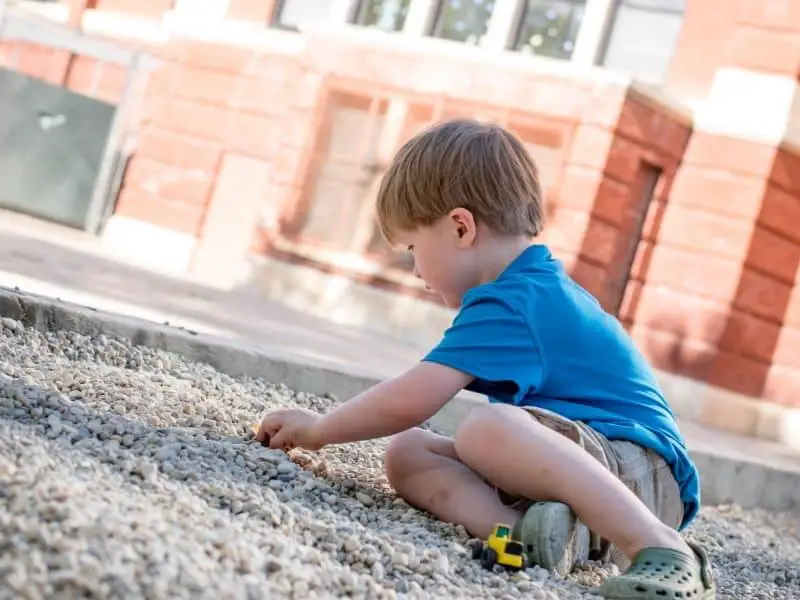 Pea gravel is not without its health risks. For example, these little pieces of gravel can present a choking hazard, especially for younger children or those that like to stick objects in their mouth. This is the biggest risk associated with pea gravel. 
You don't have to worry about tremolite or crystalline silica with pea gravel, although there will probably be a bit of dust in the bag or box when you get the gravel. This is easy enough to wash away if you're worried about asthma or dust in general. 
There are also many different types of pea gravel. Landscaping pea gravel won't be as uniformly rounded as pea gravel for play. You'll want to make sure the gravel you get, if you decide to go for a rock box, is all relatively similar in size and shape. This will allow for the best playing experience and it won't irritate or scratch your child's skin. 
Health Risks from Animals and Bugs
Despite all the talking we've already done about health risks, there are still a couple of more to take into account for sandboxes and rock boxes.
The fact is that sand tends to attract animals looking for a nice place to relieve themselves. Cats especially love sandboxes for this reason, but dogs, racoons, and a variety of other animals and bugs may be attracted to the sand. 
In fact, feces and urine in sandboxes can present a more immediate threat to children than harmful dust particles. Studies of public sandboxes never cease to find an alarming amount of bacteria, germs, and parasites. 
Now keep in mind that these are public sandboxes. Putting a cover over the sandbox in your backyard can keep animals out, and many types of insects. Plus, you can regularly clean the sand with bleach, water, and a spray bottle if you're worried about bacteria. 
That said, pea gravel is the better option for preventing animals and bugs from getting into the box. Rock boxes should still be covered whenever not in use, but they simply aren't as attractive as sandboxes — especially for those animals looking for a restroom. 
Sand vs Pea Gravel: Texture and Playtime
Playing in both sand and pea gravel is good for a child's development. It can help with motor skills, sensory development, and social skills. None of this really changes from sand to pea gravel. However, you can't build sandcastles with pea gravel. This fact can limit what your kids can do in a rock box. Of course, you can always introduce toys to the box to add another level of play.
But while sand has sandcastles going for it, pea gravel has something else: size and texture. Kids can pick up and study a piece of pea gravel, which they can't really do with sand. Each piece of gravel is a little different, so a rock box can be a place for wonder and discovery. 
Still, there's nothing quite like the feeling of sticking your hands and feet into nice, cool sand. You can do it with pea gravel, but it doesn't feel the same. And now we've segued nicely into one of the major drawbacks of sand for parents: cleanup.  
Keeping Things Clean
Anyone who has ever been to the beach knows that sand gets EVERYWHERE. And while you may not be mixing water with the sand in the sandbox during playtime, sand still has a tendency to stick to skin. It gets in socks and shoes, inevitably gets into hair, and often gets carried into the house in little pockets, only to come out at the most inopportune time (say, during dinner, for instance). 
This isn't an issue with pea gravel. It doesn't stick to skin like sand does. And even if some gets tracked inside in little pockets or shoes, it's easy enough to clean up quickly by hand or with a broom and a dustpan. 
Plus, pea gravel is easier to keep clean and quicker to dry than sand, which makes it an attractive prospect for many parents. 
The Price of Sand vs Pea Gravel
Believe it or not, the price of sand and pea gravel are similar — if you're shopping for standard play sand that may or may not contain crystalline silica. If you want sand that's been certified to not contain harmful carcinogens, you can expect to spend much more than pea gravel. 
You can find pea gravel available for between $4 and $8 per 50-pound bag. Regular play sand will cost about the same, but safe sand will cost around $25 per 25-pounds when you purchase online.
Depending on where you live, you may be able to find safe sand locally, which will be cheaper. However, you're unlikely to find safe sand that's as cheap as pea gravel, especially if you buy in bulk. 
Sand vs Pea Gravel Maintenance
Lastly, let's talk about maintenance for sand and pea gravel. For the most part, the maintenance needs are the same. You'll want to cover your box, no matter what kind of material you go with. 
You'll also want to rake the sand or pea gravel before your children play in it, just to make sure there are no surprises in there, such as insects. If the sand or gravel gets wet, it's a good idea to let it dry out. This will help prevent mold and fungus from growing in there. This is particularly important with sand. 
Keep in mind that pea gravel will no-doubt escape the confines of the box. And if it gets into nearby grass, it could have a run-in with a lawnmower blade. This is something to avoid, if possible, and not something to worry about if you use sand. 
In Conclusion
Aside from being a choking hazard, pea gravel is considered a safer alternative to sand. It doesn't attract animals like sand does, and it's less likely to become infested with bacteria, mold, and parasites. 
However, the feel of sand and the ability to make sand castles is pretty important to some. Many parents played in sand when they were kids and they want their kids to have that same experience. Getting safe sand is entirely possible, although it may be a bit pricier than pea gravel. 
In the end, deciding between a sandbox and rock box depends on what you want out of your box. Either way, kids can get plenty of joy out of sand or gravel, and there are ways parents can keep their peace of mind, too!