The popularity of outdoor living spaces has been growing strong in recent years. With good reason, too. There's something naturally calming and soothing about spending time outside— even if it is under a covered patio and within three strides of the comfort of your home.
Still, a cup of coffee with the sunrise or sunset can be the highlight of your day. Not to mention dinners, celebrations, gatherings, or quiet nights outside. But when the weather turns chilly and you still want to enjoy your outdoor living space, you may be wondering: can you use an outdoor heater under a covered patio?
The short answer is yes. Most outdoor heaters are fine to use under a covered patio— provided you have enough clearance on all sides of the heater. Each patio heater has different safety requirements that you must follow in order to avoid dangerous accidents. A little bit of checking before you buy can go a long way to a comfortable, safe, and warm outdoor living area.
Read on to discover which outdoor patio heaters work best under a covered patio. We'll tell you all you need to know! Don't have a covered patio? Check out our article here for some other options. 
Note: This article focuses mainly on the clearance and safety of outdoor heaters under covered patios. To effectively determine the amount of heat you need to warm any given space, check out our article here. It will tell you how to calculate BTUs (it's pretty easy) so you can determine which of the heaters below will work best for your patio. 
Four Different Kinds of Heaters for Covered Patios
There are four different kinds of outdoor heaters that you can use under a covered patio: propane, natural gas, electric, and wood. Which one is best for you will depend on how much space you want to heat, how much clearance you have, and whether or not you're concerned about saving patio space. 
Some of these heaters are better than others in terms of safety, ease of use, and overall effectiveness. We'll get into the details of each to give you an idea of which option is best for you.
If you're interested in seeing which heater we recommend for each category below, check out this table!
Preview
Propane Heater
Natural Gas Heater
Electric Heater
Wood Heater
Product Name
Heatstar Radiant Natural Gas Heater
Eprosmin Electric Outdoor Patio Heater
Bali Outdoors Wood Burning Chimenea
Propane Heater
Preview
Natural Gas Heater
Preview
Product Name
Heatstar Radiant Natural Gas Heater
Electric Heater
Preview
Product Name
Eprosmin Electric Outdoor Patio Heater
Wood Heater
Preview
Product Name
Bali Outdoors Wood Burning Chimenea
Propane
Propane is probably the most popular option for heating covered patios. Many businesses with outdoor seating areas, like bars and restaurants, use mushroom propane heaters. They stand about 6 to 8-feet tall and look like big metal mushrooms. They usually run off of 20-pound propane tanks that you can get at your local pharmacy, grocery store, or convenience store.
Many people like the portable propane mushroom heaters because they can easily be moved (most of them have wheels) and stored when not in use.
Clearance
The clearance requirements vary depending on the model, which is why you should always get specifics before you buy. But, most of these propane heaters require an overhead clearance of 18 to 24-inches. So if you purchase an 8-foot model, your patio cover should be about 10-feet tall.
But overhead clearance isn't the only consideration. They also require an average of 2 to 3-feet of clearance around the sides (no walls, patio curtains, support beams, latticework, hanging plants, etc.). They should also remain unobstructed from the heating element directly down to the floor. It may be tempting to sit directly under one of these propane heaters, but for safety, it's best to sit under one with a couple of feet of clearance.
Space and Aesthetics
Mushroom propane heaters don't take up a whole lot of space, since they're fairly tall and thin. However, many people don't like the industrial look of these heaters. They are very utilitarian in design and they can stick out like a sore thumb. But for those who don't mind the black or stainless-steel look, they are a great option for a backyard patio heater.
Natural Gas
If you have an existing natural gas line outside you may want to take advantage of it with a natural gas patio heater. These come in all shapes and sizes, including mushroom-style like your typical propane heaters, although they're not quite as popular. For the most part, natural gas outdoor heaters are smaller than their propane counterparts and are not portable. Although many models can simply be removed from the gas line and stored when not in use. 
Natural gas has a few things going for it in regards to outdoor heaters. It tends to burn cleaner than propane and you don't have to worry about replacing the fuel canisters. That way you can have a nice warm patio no matter what. On the whole, natural gas is also cheaper than propane. But, it doesn't necessarily burn as hot as propane does, when compared side-by-side. Still, if you have a small patio with an existing natural gas line, you're set up for success.
Clearance
Since most natural gas heaters sit lower to the ground than propane heaters, you don't typically have to worry about clearance. However, there are models that are designed to be hung from the ceiling. Many of these require professional installation and an overhead clearance of 17 to 24-inches. Again, it's all about checking the manufacturer's safety instructions before deciding on one to use under your covered patio.
Space and Aesthetics
Many natural gas heaters are fairly small in design. The ones that hang from the ceiling are excellent if you have limited space, and the ones that sit on the floor may need a gas hose running from them to the natural gas fixture. Many of the models available are even less aesthetically pleasing than the propane ones, but it's possible to find ones that are a little dressed up if you look hard enough.
Electric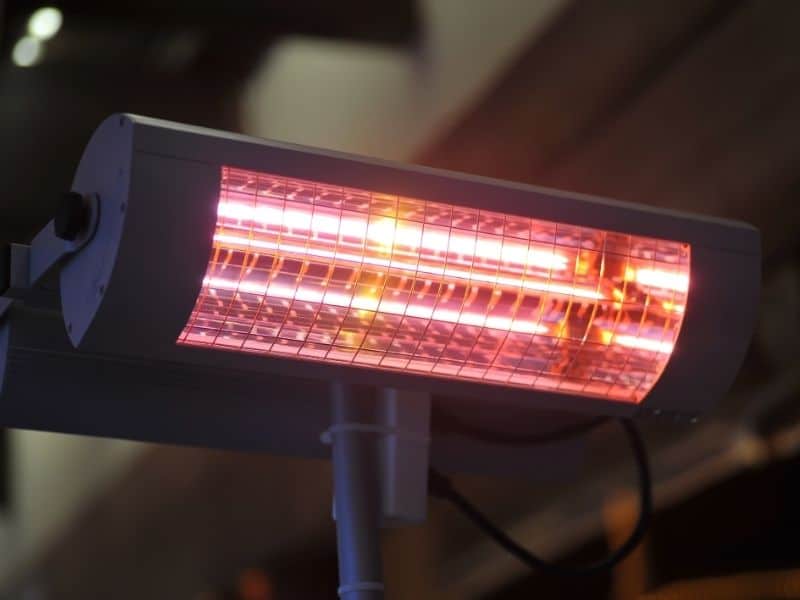 Outdoor electric heaters have come a long way since their advent. They used to rely on a heating element and a fan to heat the air which would then heat you. Not anymore. Like their gas counterparts, you can find electric outdoor heaters that use infrared technology to generate radiant heat, which heats objects instead of the air. They are much more efficient than they used to be, and many people are happy with their electric outdoor heaters. 
You can buy them to mount on the walls or install in the ceiling. Or you can purchase portable ones. Of course, all of the models need to be plugged into an electrical outlet. It's also nice to be able to flip a switch or touch a button on a remote and have heat quickly. No replacing tanks, no gas lines required. Just a plug.
Clearance
Electric heaters generally require less clearance than either gas-powered option. Some wall-mounted options require as little as 6-inches of clearance. The normal range of clearance for infrared patio heaters is between 6 and 18-inches. Clearance on the sides is usually somewhere between 12 and 24-inches. And from the bottom is usually 36 to 48-inches.
Space and Aesthetics
As you can tell from the numbers above, electric patio heaters are usually the best bet for space-saving. They can be mounted with minimum clearance on all sides, but they're still powerful enough to provide warmth.
However, despite recent advances in infrared technology, many people find that gas patio heaters are capable of providing more heat from a single heater. It all depends on the space you want to heat and the temperature outside.
Wood
Let's be clear upfront and say that wood-burning heaters are not the best option for a covered patio. You should never burn wood directly under any kind of obstruction— even an aluminum or wooden patio cover. The smoke tends to gather underneath, which can damage the patio, fill your lungs, and cause your eyes to water. Plus, breathing smoke isn't the healthiest thing to do. Best to avoid it.
But, there are some options if you really want to heat your covered patio by burning wood. The first would be to install an outdoor fireplace. This would require hiring a professional (unless you know what you're doing) and making sure that everything's up to code.
It is also possible to purchase a portable fireplace, like a chiminea. You can buy a chimney extension that can direct the smoke out from under your patio, releasing it into the air above your home instead. 
Before choosing either of these options, make sure that wood fires are allowed in your area. Many places have burn bans much of the year to deal with pollution and to prevent wildfires. 
Clearance
There is no amount of safe clearance over an open-air wood fire pit. You would need to use a chimney to direct the smoke out from under the covered patio.
Space and Aesthetics
If you're concerned with space, an outdoor fireplace or chiminea isn't your best option. Both will take up more space than most electric or gas heaters. However, there's little more aesthetically pleasing than a nice outdoor fireplace. There's no doubt that a roaring and crackling fire makes for a great atmosphere.
It's also a good idea to consider that the heat output of a fireplace or chiminea is limited to how much wood you can safely fit inside. As far as efficiency, wood-burning may not be your best bet, unless you happen to have seasoned firewood to spare.
In Conclusion
You absolutely can use an outdoor heater under a covered patio. As you can see, you have plenty of outdoor heating options for a covered patio. The most important thing is to follow the manufacturer's instructions for safety and best results. That way you can stay safe and warm while enjoying your time outdoors.
Recent Posts