Having a screened-in porch affords you ample opportunity to use the outdoor space in all kinds of situations. The screens protect you from pesky bugs while still allowing you to enjoy a nice breeze. Plus they keep dirt and debris out, unlike their screenless counterparts.
Most screened-in porches have ceiling fans for cooling in the summer, but what about heating in the winter? If you're struggling to find effective ways to keep cozy, we've got 8 ways to heat a screened-in porch in the winter. One (or more) of the options below should do the trick just fine. 
The considerations for a screened-in porch are a little different than those of an uncovered or non-screened porch. Unless you have a large porch with high ceilings and plenty of ventilation, you'll want to stay away from wood-burning fire pits. Even inside a screened porch, the buildup of fumes or smoke can become a serious health risk. Luckily, there are plenty of safe ways to heat a screened-in porch in the winter!
1. Freestanding Electric Heaters
You've probably seen a propane version of these standup electric heaters. They are usually around 6-feet tall with a reflective plate around the top, just above the heating element. While these electric ones don't put out as much heat as the propane versions, they can still help to heat up the patio when it's cold out. 
2. Infrared, Wall-Mounted Electric Heaters
As infrared heating technology advances, the price of these heaters goes down while effectiveness goes up. Instead of using a heating element and a fan to blow warm air around, these wall-mounted heaters use infrared technology to heat objects (like you) instead of just air. As a result, they're much more effective than other electrical heaters. Many of them are also more efficient. It's a win-win! 
Here's one of the best-rated infrared heaters on Amazon. Check it out!
3. Table Heaters
You may be surprised to know that table heaters come in two flavors: table-top and actual table. They are both fairly effective at heating a small area and are ideal for smaller porches or those that are only used by two or three people at a time. 
Tabletop heaters, like this one from Lasko, often oscillate to spread the heat around. This makes them great for use with more than one person at a table.
While Amazon doesn't sell them, it's not too hard to find specially-made side tables that actually have a built-in heating element on the stand. These are also excellent for small screened-in porches and patios. 
4. Gas Fire Features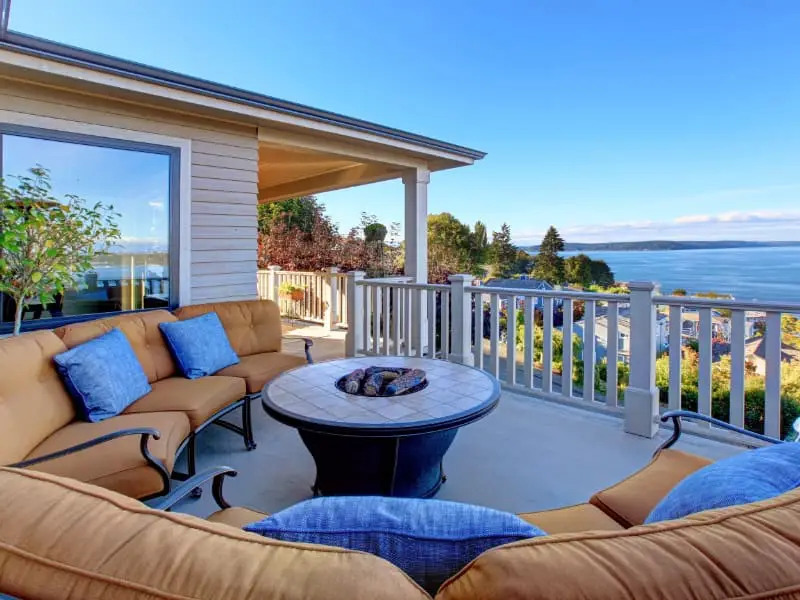 Propane and natural gas fire features (also called fire pits or fire tables) can be operated on a screened-in porch. However, you should always follow the manufacturer's instructions to ensure safe use. In order to find out if you can safely operate a gas-powered fire pit on your screened porch or patio, you'll need to figure out a few things. 
Ceiling Height – Minimum height requirements vary depending on the fire feature, meaning if your awning or ceiling is too low, you shouldn't use a gas fire feature. 
Square Footage – The size of your porch will also play a factor in safe fire pit operation, so have this information handy when you do your shopping. 
Proper Placement – Most gas fire pits require a minimum distance of 3-feet from any sort of wall, window, doors, or screens. However, this distance will differ depending on the particular fire feature. You will also probably want to purchase a heat-resistant mat if you have a wooden porch. To find out more about fire pits on wooden decks or porches, click here. 
Proper Ventilation – Last, but definitely not least, is the need for proper ventilation. Most fire pit manufacturers require that the space has at least two open walls (screens are generally okay). If your porch is screened on two or three sides, you're probably safe to use a gas fire feature, provided all the other information checks out.
Check out this gas fire feature which doubles as a table when not in use! 
5. Outdoor Fireplace
If you want to experience the warmth, smell, and mesmerizing effects of a wood fire on a screened porch, your best option is to install an outdoor fireplace. It's a little more expensive than most of the other options on the list, but it's also an investment that can add value to your home. 
Since these fireplaces have chimneys, you don't have to worry about smoke buildup inside the screens. However, you should always have a professional install one of these for you. And check your local laws to make sure there aren't any woodfire bans in your area, as there are in many cities.
If your area does have woodfire bans, you can always purchase one of these infrared fireplace heaters. They look like a fireplace and emit plenty of heat without the need to burn wood. You just have to plug them in.  
6. Porch Accessories
Another way to warm your screened porch in the winter is to trap the heat and block out the cold. You can do this with porch accessories like roll-down vinyl panels that you can place on the inside or outside or the porch. You can also do the same with outdoor curtains, although they can't be sealed as easily as other vinyl options. 
7. Floor Heating Systems
If you want to invest in a system that will easily keep your screened porch warm, consider a radiant heating system for the floor. These require professional installation and are pretty expensive, but they can warm the floor which can raise the overall temperature.
8. Pillows, Blankets, and Best Friends
Lastly, the old go-to for keeping warm on a screened-in porch involves pillows, blankets, and furry best friends. Your dog or cat may not necessarily want to be outside in the cold, but once they get comfortable under the blanket with you, they can provide a great source of radiant heat which is trapped by the blankets! This is a low-tech option, but still a fun one.