Decks are made out of wood, composite, or synthetic materials. Patios, on the other hand, are made out of stone, concrete, or crushed rock. Besides the obvious, there are some major differences between the two. Sure, they both serve similar functions, but they also have their own unique limitations and drawbacks.
To help you decide which is right for you, we'll dive deep in this Deck vs Patio Ultimate Guide. We'll discuss costs, differences, pros & cons, and pretty much everything you need to know to make an informed decision.
Different Types of Patios and Decks
There are several different kinds of patios and decks to choose from, meaning that the type of your house doesn't necessarily dictate which one you will have to build. For instance, in place of a deck, you could put a raised patio. In place of an existing patio, you could put a ground-level deck. You've got options to match your home's construction and layout. Let's go over them briefly.
Raised Deck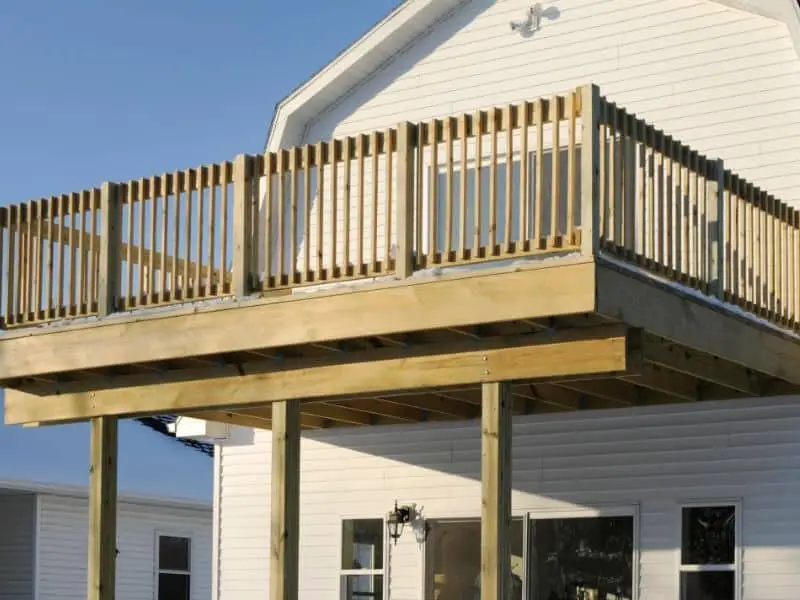 This is the most commonly built type of deck. It sits on support beams and joists off the ground. Some raised decks sit only a few feet off the ground while others, like those built on a hillside or for an upper floor, can be much higher. Raised decks are ideal for areas with uneven or sloping ground. Since they are raised, they require handrails, which can add to the cost. 
These decks are also attached to the home or structure, which often requires them to have zoning permits before you can build one. However, some raised decks, when built away from the home, aren't attached to any structure. 
Patio
Your typical patio sits directly on the ground, and so doesn't require any kind of support structure underneath or protective handrails. Patios generally don't require permits to build, but it's always a good idea to check. 
Ground-Level Decks
The equivalent of a wooden patio, ground-level decks don't require a support structure other than joists. They sit on the ground, giving homeowners an alternative to a stone patio. 
Raised Patios
Raised patios are often used in yards that are slanted. Raised patios still sit on the ground, but the ground has been moved and graded to support the patio. While these structures can't be built as high as some decks, they are an alternative for ground-floor areas where a deck would otherwise need to be used. 
Floating Decks
These decks don't attach to any structure, making them ideal for lounge areas away from the house. They are still well-built and supportive, but they can be placed nearly anywhere.
Hopefully, knowing exactly what your options are will allow you to make an informed decision, instead of giving you too many options. Now, let's dive into materials. 
Deck and Patio Materials
Many homeowners start with the materials when they are debating between a deck and a patio. Decks are typically made from:
Wood
Composite Material (Wood Fibers and PVC, Vinyl, or Other Plastic)
Vinyl
Aluminum
Patios are generally made with:
Bricks
Concrete
Pavers or Flagstones
Gravel
Tile
While there are several options for each structure, the materials available to you may quickly narrow down your decision. For many, the materials are an aesthetic choice. Depending on the style, color, and architecture of your home, you may or may not want to use a certain material. 
For instance, if you don't think stone, bricks, or tile will work with the feel of your house, you may want to build a deck, and vice versa. And while we're talking about materials, we might as well get cost out of the way, because that's also another big factor. 
Patio vs Deck Costs
How much you spend on a patio or deck will vary widely depending on a number of factors. For the sake of this article, we'll be talking about materials and installation labor. Add-ons or upgrades, like fire pits, outdoor kitchens, hot tubs, awnings, and furniture, will not be factored into these numbers, for reasons that should be obvious. 
Of course, the larger the patio, the more you'll pay, which is why we try to cap the numbers around the average cost for a large patio or deck. 
Average Patio Costs
From the cheapest to the most expensive, here are the average costs for patio installation:
Pea Gravel

Pea gravel is a cheap and effective way to install a patio. You could even do it yourself. The hardest part would be grading the surface so water runs away from your house. 
For pea gravel alone, you're looking at $1.50 to $5 per square foot. With installation labor included, $3 to $10 per square foot. 
Concrete Poured, Stamped, or Pavers

Concrete is a popular choice for patios because it's inexpensive and lasts 20+ years. Stamped concrete is slightly more expensive than poured. Pavers are more expensive than either. 
Poured Concrete Patio with Labor: $1,500 to $4,000.
Stamped Concrete Patio with Labor: $2,000 to $5,500
Patio with Concrete Pavers and Labor: $2,500 to $6,500

Brick Pavers

Brick pavers tend to last longer than concrete pavers because they're made out of clay. They also require less maintenance and upkeep. 
Patio with Brick Pavers: $3,000 to $7,500

Stone

There are a ton of options when it comes to stone for patios. As a result, there's a wide range of costs. You can get some flagstone for as little as $5 a square foot, going all the way up to more than $30.
On average, a flagstone patio will cost you about $9 to $12 per square foot. 
Average Deck Costs
Just like patios, the cost of installing a deck will vary widely. Materials and labor are the biggest costs, but also location, type of deck, and size are all contributing factors. Even the cheapest decks will generally be more expensive than a patio of the same size. 
Wood

There's a wide variety of wood available for decking. The cheaper the wood, the more maintenance it will require, although we're not factoring regular maintenance into the cost. 
Basic Wood Deck: $2,000 to $4,000
Exotic Wood Deck: $4,200 to $8,000

Composite

Composite decks require little maintenance and will outlast most wooden decks. It's generally made with some sort of wood product (like fiber) and vinyl, PVC or other recycled plastics.
Composite Wood Deck: $5,500 to $10,000

Aluminum

Lightweight metal decking is relatively new to the scene. It doesn't require any maintenance and will last for a long time. 
Aluminum decking costs anywhere from $12 to $20 per square foot. Installation costs vary by region, but the average cost is estimated to be between $4,500 to $10,500. 
Deck vs Patio: Which Lasts Longer?
A concrete or stone patio will still last longer than a deck, even with modern decking materials. While decks made out of aluminum or tough woods like ipe will last much longer than standard wooden decks, they still have a support structure that will eventually wear down. Patios, on the other hand, use the ground as their support structure. 
Of course, there are exceptions to this. In places that experience extreme cold, concrete patios can crack. While this doesn't necessarily keep you from using the patio, it can be unsightly and may eventually make the patio uneven.
But, as you'll see below, there's another big factor to consider when choosing between a patio and a deck: value. 
Deck vs Patio: Which Adds More Value to Your Home?
When done right, both decks and patios can add value to a home. However, how much value depends on many factors, including the climate in which your home is located. Generally, in areas where the weather is nicer, an outdoor area will add more value to the home. But how much are we talking?
Patio Value
There seems to be conflicting information about how much value a patio can add. Some estimates say that you can recoup up to 80% of the cost of installation, while others say it's closer to 50%. We'll go with the lower number because there's more significant data supporting that estimate. 
Still, that means if you spend $4,000 installing a patio, you can recoup $2,000 upon the sale of your house. 
Deck Value
Decks are a different story. Especially wooden decks. The numbers say that installing a low to mid-range wooden deck can recoup 75% of the cost, adding around 8% to 10% to the total value of your house.
High Cost Doesn't Mean High Return
But there seems to be a limit to this. For both patios and decks, professionally installed mid-range materials seem to give the highest return on investment. Meaning, the more expensive the materials, the lower the return on investment tends to be. 
This goes for features, too, like fire pits, outdoor kitchens, pergolas, and hot tubs. Of course, if you want any of these extra features, go for it! Just realize that they won't add as much value to your house as you might think.  
Patio and Deck Pros and Cons
---
In Conclusion
There are a ton of options out there for patios and decks. You can easily build a high-end patio for the same cost as a standard wood or composite deck. The patio will last longer, while the deck will add more value to your home. Patios sit on the ground, while most decks have a support structure and handrails that add to materials and installation costs. Decks require permits in most places, while patios don't. 
Really, it comes down to how much you want to spend and what you want it to look like. Many people prefer the look of wood or composite materials to that of concrete or stone. You'll also want to consider the terrain. Sloping or uneven areas are best for decks, while flatter areas are good for patios. 
Now that you've seen decks and patios compared and contrasted, it's up to you to choose your best option. We hope this helped!